The Philippines is diving mecca.
With 7,107 islands all within the coral triangle – the most biodiverse area on the planet – it's no wonder that it is regarded as one of, if not THE best country for diving. A diver's life is not complete until he has dived in the Philippines. Similarly, if you are looking to try diving or to learn, there is no better place to do it.
We are country experts who are passionate about diving in the Philippines, and we can make your scuba dreams a reality, be it a quick one day trip from Manila, a week-long liveaboard, or a full-on pilgrimage to all the best dive destinations in the country. We also provide scuba lessons, discovery dives and dive resort stays. Check out our diving packages below or contact us for a customized diving arrangement.
Our diving vacations
Certificate of Excellence
winner
to
*
*
*
*
*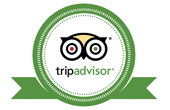 Uncharted Philippines Adventure Travel and Day Tours

2016 Bespoke Tour Operator of the Year for The Philippines

VTC
Verified Travel Consultant