Adventure is a very overused and abused word.
People go out for a night of clubbing in New York City and call it an adventure. While that may cover several bases of what some might consider adventure (e.g.: unpredictable outcome, lack of control, potential for disaster) we would classify that together with bungee jumping and sky diving which we regard as thrill activities but not adventures.
For us, adventure is about engaging the world in a new way and discovering something about yourself in the process. For us who live in modern civilization, this means interacting with the things that are outside our regular lives: raw nature and ethnic culture. All of our adventure tours take you to places where nature is not only awe-inspiring but also undeniably king, without modern development or mass tourism subduing it. Traditional cultures often thrive near such places, so many of our adventures also take you to meet people whose way of life is vastly different from your own.
We also believe that the best way to commune with the Earth is to give it some of your sweat. Almost all of the places that we go to cannot be accessed without some work, and by work we mean hiking, kayaking, climbing, diving and other labors. That's the price we have to pay to get to the most spectacular spots on this planet. While all of our adventures are active, some are more physically demanding than others. We designed most trips to be taken by anyone with an adventurous spirit and you don't need to be especially athletic or fit to be able to enjoy them.
Our adventures range from day trips to multi-week expeditions, and we have them all over the Philippines, Colombia and nature areas around Las Vegas. Tour packages always include land and water transportation, guiding service, accommodations and the cost of activities. Follow the links below to find your next adventure.
Certificate of Excellence
winner
to
*
*
*
*
*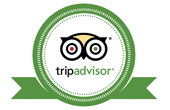 Uncharted Philippines Adventure Travel and Day Tours

2016 Bespoke Tour Operator of the Year for The Philippines

VTC
Verified Travel Consultant